Crash Fever™ Global Version Announces 3rd Year Anniversary Special Event
WonderPlanet kicks off month-long in-game event to commemorate global launch of hit puzzle RPG, to offer special Hatcher with up to over 30 free 30x pulls.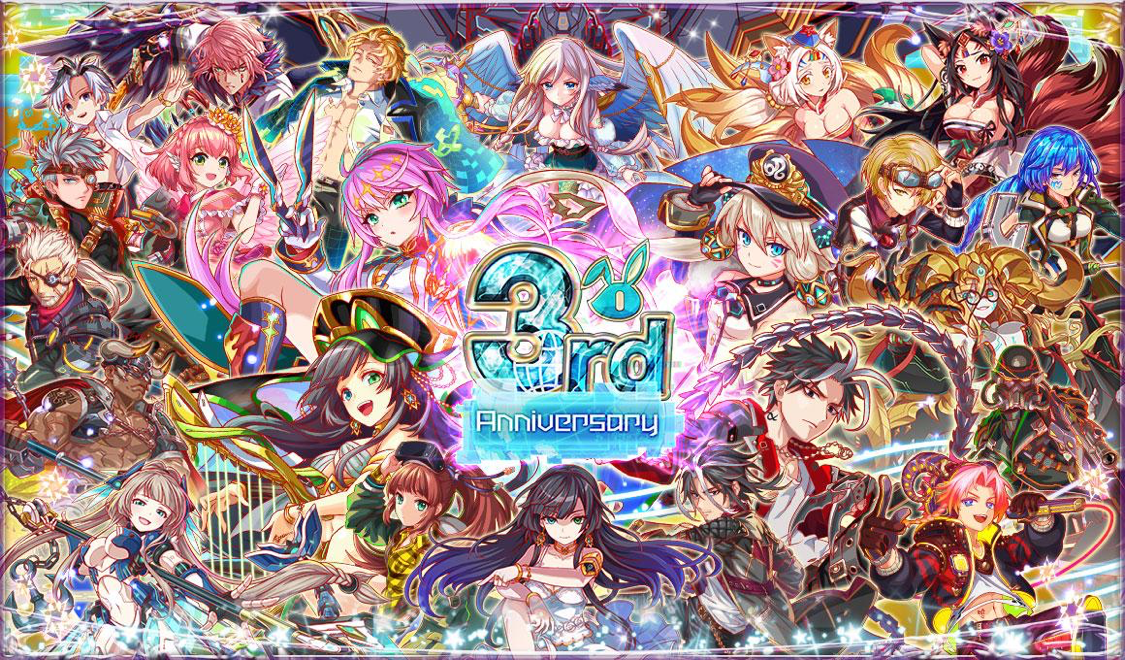 NAGOYA, JAPAN – September 30th, 2019 –WonderPlanet Inc., a developer and publisher of games for iOS and Android mobile devices, and lead by Founder and CEO Tomoki Tsunekawa, announced today a special in-game event to celebrate Crash Fever Global version's 3rd year anniversary. The game was originally released on October 26, 2016. The festivities for the month-long celebration are scheduled to begin on October 1, 2019.
New Event Quests and Characters
Throughout the month of October, players can look forward to the release of never-before-seen Global-original quests and characters, exciting new regional quests, as well as the return of some classic quests from year's past.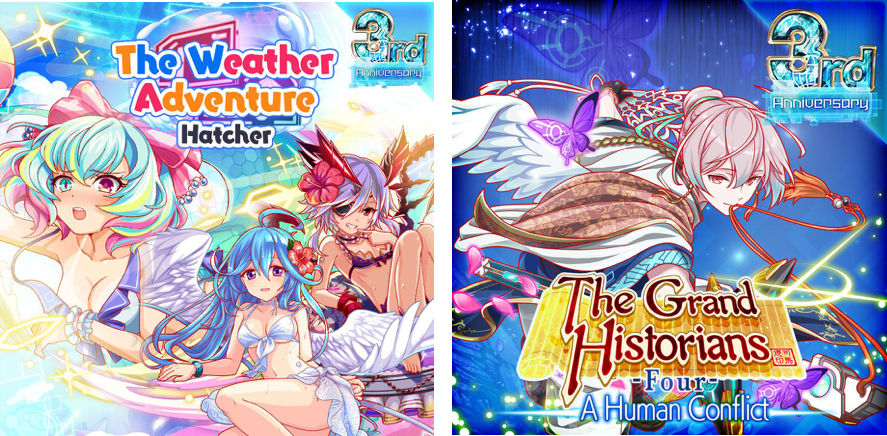 Limited "locked quests" will let players gather materials to help strengthen their characters. These locked quests can be played just once a day, but are easy enough for beginners to clear. Players can check in game for all of the latest information on new quests and returning quest availability.
Limited Edition Hatchers
No event would be complete without an array of special Hatchers. A free daily Hatcher will offer players a whopping 30 characters with each try. The excitement will continue to build with many more Hatchers in store, details will be released in-game all throughout the anniversary month.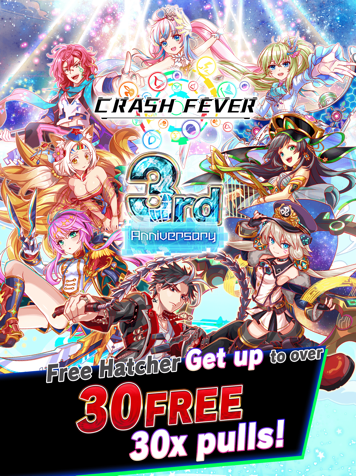 New Medals and Special Bonuses
Players will be able to collect new 3rd Anniversary medals, which they can then use to obtain chances at powerful Cost 65 units, some of the strongest units in the game.
3rd Anniversary medals can be obtained by clearing select new and classic quests, or simply by logging in each day. With a new Scratch Bonus, players will also have up to three additional chances each day to collect even more medals. By completing weekly missions, players can collect precious Polygons as well as 3rd Anniversary medals.
Comeback Campaign
For players who haven't logged-in for more than 15 days, we will welcome them back with a Polygon gift. The higher their player rank the more Polygons they'll receive. The Comeback Campaign will be available until October 31st. Additional details will be available in-game.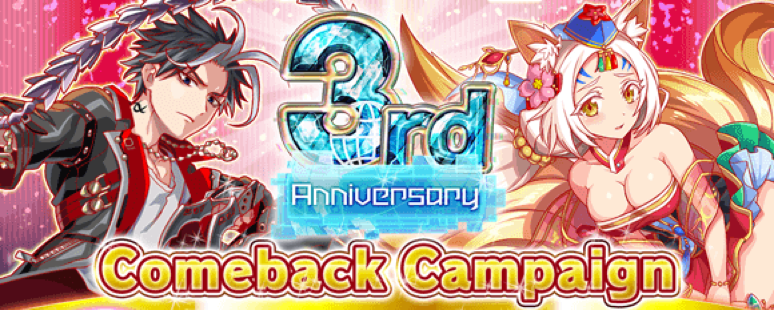 Social Media Campaigns
For the first time, Wonderplanet is teaming up with the Crash Fever fan community on Discord in a project to create two new characters for Crash Fever. Crash Fever Global version's official Instagram account (@crash_fever_en) will also have special 3rd anniversary offerings and community challenges.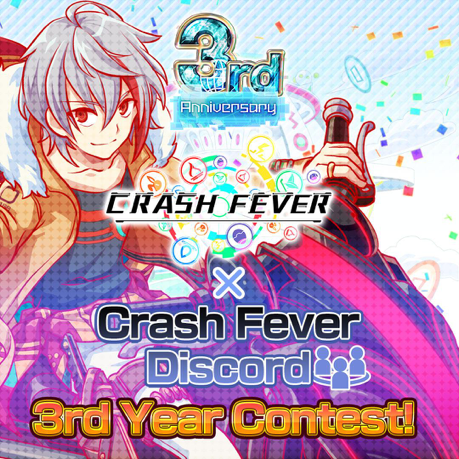 A new character popularity contest on Crash Fever's social media will grant all players amazing rewards and more. We encourage players to log in for the latest event news and to follow our official Instagram and Facebook accounts for details.
Event content and or offerings may change without prior notice.
About Crash Fever
Set in a fantastic anime-inspired virtual world, Crash Fever is a puzzle RPG (role-playing game) offering a simple twist on match-style gameplay. To do battle and attack enemies, players instantly link and smash panels with just one touch. The game features both single and multiplayer co-op for up to four players. Players around the globe describe the game as "addicting", "awesome", and "super fun". Crash Fever is free to download (with in-app purchases) for iOS and Android devices.
Worldwide Crash Fever has surpassed 10 million downloads (as of April 2018, across iOS and Android platforms) since it's initial launch in July 2015. The game is free-to-play (with in-app purchases) for iPhone, iPad, iPod touch, and Android devices. Download it from the App Store and Google Play™. For the latest news about Crash Fever visit: https://www.facebook.com/CrashFeverEN/
About WonderPlanet Inc.
WonderPlanet Inc. plans, develops, operates and markets full native applications and games for mobile devices. Founded September 3, 2012, with headquarters in Nagoya and offices in Tokyo, Japan WonderPlanet Inc. is led by Founder and CEO Tomoki Tsunekawa. For more information, visit: https://wonderpla.net/en/
Crash Fever Product Information
Title: Crash Fever
Category: Puzzle RPG (role-playing game)
Price: Free (with in-app purchases)
OS: Requires iOS 8.0 or later. Compatible with iPhone, iPad, and iPod touch. 4.4 and up
Languages: English, Traditional Chinese, Simplified Chinese
App Store: http://apple.co/2jULQQw
Google Play: http://bit.ly/2kwrhZx
Official Facebook Page: https://www.facebook.com/CrashFeverEN/
Crash Fever is ™ & © WonderPlanet Inc. All rights reserved. iPhone, iPad, and iPod touch are trademarks of Apple Inc., registered in the U.S. and other countries. App Store is a service mark of Apple Inc. Google Play is a trademark of Google Inc. All other trademarks or registered trademarks are the property of their respective owners.